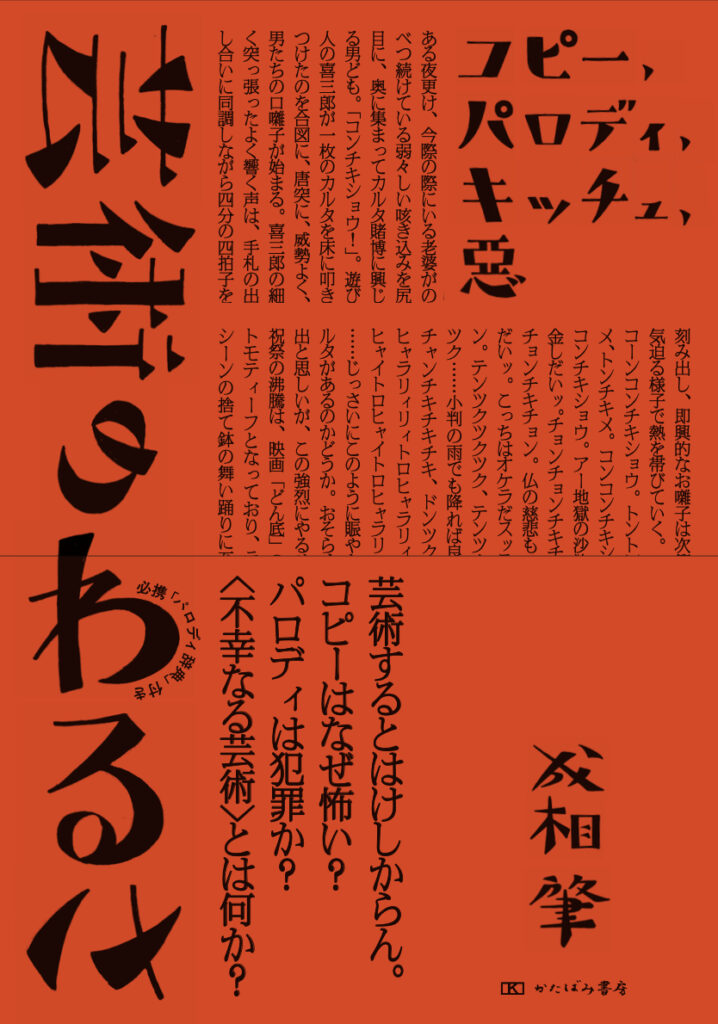 To be published in 10 June 2023
Text is Japanese only
Art and Mischief
Copying, Parody, Kitsch, Evil
Hajime Nariai
Serious or not-serious?
An aesthetics of negativity, based on an analysis of the "mundane" culture of reproduction.
This book is a theory of reproduction culture mainly set in Japan from the 1950s to the 1980s. This was a time when the mass media was vibrant, accelerated by the spread of copying technology, and reached further maturity. How did xerography threaten or fascinate artists? How did the technique of parody disturb the art world? How did the term "kitsch" enter the Japanese art world? This is the first book of a curator of art museum who has been focusing on the expressions in magazines, manga, advertisements, and television for more than 10 years.
The content is based on specific examples, such as the fierce struggle between "Discover Japan," an unprecedented campaign by Japan National Railways, and Takuma Nakahira; the pitfalls of Jiro Takamatsu's conception of copy; the essence of "commemorative photography" in the works of Shoji Ueda; and Osamu Tezuka's manga, which appeared as "evil" after the war.
The book is unique in its two dictionaries that comprehensively define terms related to parody and vocabulary related to Junzo Ishiko, who introduced kitsch. Through a discussion of the "parody case," which is famous as a representative copyright trial, the author boldly ventures into the legal field as well.
Referring to Kunio Yanagida's concept of "unfortunate art," in which he laments the "decline of evil," the author explains that "badness" as a technique of wit and resistance promotes liberation from the spell of being obsessed with infringement.
This book includes essays on Taro Okamoto, Ushio Shinohara, Chihiro Iwasaki, and Gempei Akasegawa, artists who have been deeply involved with the secular world, and the author's perspective on the value of the "mundane" and negativity runs through the book. This book is like a small city, a pleasant yet profound volume colored with disparate words of mixed hard and soft tones.
(Text is JAPANESE only)
About the author
Hajime Nariai is a curator at the National Museum of Modern Art, Tokyo, and Art critic.

Born in Shimane Prefecture in 1979. He was struck by lightning when he suddenly met a contemporary artist while a student at the School of Commerce. He received his B.A. in the Graduate School of Language and Society at Hitotsubashi University. He has worked as a curator at the Fuchu Art Museum and Tokyo Station Gallery, and has been in his current position since 2021, while working on projects that mix art and hybrid reproduction culture.
He has been in charge of several exhibitions, including "Ishiko Junzo's World: From Art to Kitsch via Manga" (24th Runga Art Encouragement Prize), "Discover, Discover Japan: Somewhere Far Away" and "Parody and Intertextuality: Visual Culture in Japan around the 1970s". In 2022-23, he will be in charge of the exhibition Shinro Ohtake at the Museum of Modern Art, Tokyo.
Table of Contents
The Unfortunate Art
No Foul Book Exists (Solution of "The Unfortunate Art")

Ⅰ Copying
What's Afraid of Copying?
Xerographic Love
Discover, Discover Japan
Everything is like a White Daydream: Takuma Nakahira, Enzensberger, and Tsutomu Konno
Be careful of Shoji Ueda: What is a commemorative photo?

Ⅱ Parody
Sales Copy for "Parody and Intertextuality"
Parody Dictionary (Second Edition)
Unidentified Art Form, Parody: An Overview and My Opinions
Originality and the Fullness of Repetition: Around the 1970s as the Age of Parody
Hear Double Voices: From the Parody Case
Definition of Parody, Rights of Text

Ⅲ Kitsch
What I Thought in the World of Junzo Ishiko
Kitsch Dictionary
To Touch an Anonymous Obituary: A Guide to the World of Junzo Ishiko
The World of Junzo Ishiko: With an Eye on the Pulsating "Hollowness"
Junzo Ishiko and the Thousand Yen Bill Trial
Tricks and Vision Exhibition – Stolen Eyes: Crossroads and Cracks in 1968

Ⅳ Evil
Sales Copy: When Song is Born (Materialism of the Prayer Masters)
"Okamoto" and "Taro" join hands?
The Flourishing of Evil: The Subtle Relationship between Manga and Art
A Note on Taro Okamoto's "Dawn" and "Law of the Jungle"
Liquid Kid's Superpower: Shinohara Ushio aka Gyuchan's Voice and Rhetoric
The Swimming Eyes: What's Happening in Chihiro Iwasaki's Watercolors
Overview of Gempei Akasegawa Ltd.
The Teachings of Shennong
Postscript